The Makena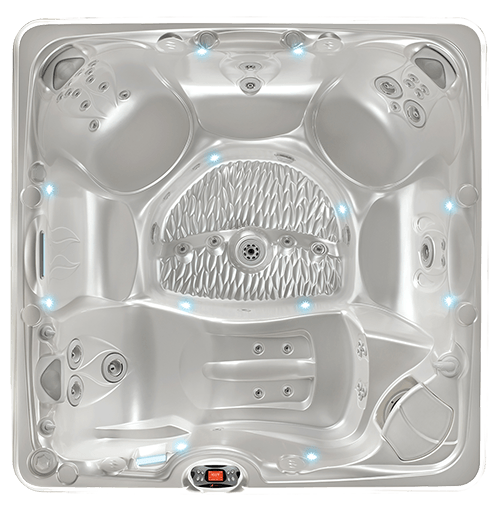 Seats 6 adults
395 gallons / 1,500 liters
7'5 x 7'5 x 36" (226cm x 226cm x 91cm)
1,020 lbs dry / 5,365 lbs filled (465 kg dry / 2,445 kg filled)
The Makena® a full-featured, full-sized lounge spa model in the popular Paradise Series is perfect for daily personal care, family time and entertaining. The Makena features our signature comfort, performance and style amenities including 46 jets, 12 points-of-light, a backlit Acquarella® waterfall, and seating for up to 6 adults.
Hot Tub Specifications
Seating Capacity
6 adults
Dimensions
7'5 x 7'5x 36" / 226 cm x 226 cm x 91 cm
Water Capacity
395 gallons / 1500 liters
Weight
1,020 lbs. / 465 kg dry; 5,365 lbs.* / 2,445 kg
Jet Pumps
2.5 Hp Pumps; 1 Dual-Speed & 1 Single-Speed
Hydromassage Jets
40 Total
37 Euro, 6 VersaSsage®, 2 AdaptaFlo®, 1 Euphoria®
Spa Shell and EcoTech® Cabinet Options
White Pearl, Desert, Midnight Canyon, Tuscan Sun, Sterling Marble/Espresso, Coastal Gray, Teak
Controls
Advent® LCD Main CP
Circulation Pump & Heater
EnergyPro® Circulation Pump/EnergyPro® Heater (4,000 Watts)
Filter Size
75 sq. ft.
SPA FROG® Water Care System
Cartridge-ready
Monarch® CD Ozone System
Available option
Water Feature
Acquarella Waterfall w/LED lighting
Caldera Entertainment Options
Wireless Bluetooth® Sound System, Wireless In-home Dock, Wireless TV
LED Lighting System
SpaGlo® 12 Points-of-Interior Lights
Insulating Cover
3.5" to 2.5" tapered, 2 lb.-density foam core
Electrical Requirements
230v/30 or 50 Amp
GFCI Sub-panel
Included
*Filled weight includes the weight of the occupants assuming an average weight of 175 lbs.
**Brake Horsepower (BHP) is the horsepower a pump motor achieves for a brief period upon start-up.
Related Links
Showroom Locations
15 Banfield Road
Portsmouth, NH 03801
Tel. 603-431-3808
890 Lafayette Road
Hampton, NH 03842
Tel. 603-929-1993

Newsletter Sign Up

For
Email Marketing
you can trust